Ride the Beat—2021 Taoyuan Iron Rose Festival
Ride the Beat—2021 Taoyuan Iron Rose Festival
Ride the Beat—2021 Taoyuan Iron Rose Festival
Ride the Beat—2021 Taoyuan Iron Rose Festival
Ride the Beat—2021 Taoyuan Iron Rose Festival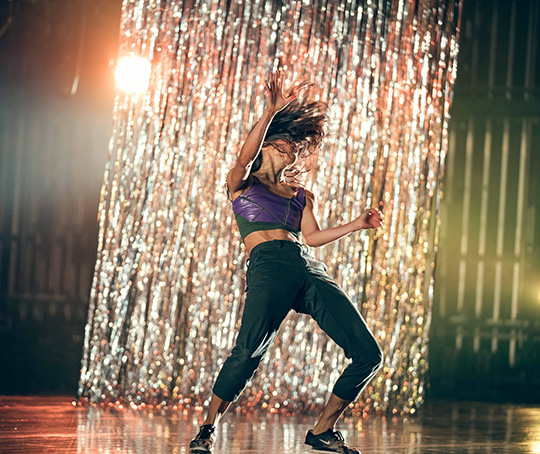 Date

2021/10/29

Venue

Taoyuan Arts Center
Comments on the Finalist
With group dance, music, installation, and brilliant spatial arrangements, Ride the Beat portrays physical suppression and loneliness, and in an implosive manner, adds one layer after another to create relaxing rhythm that is both wild and reserved. The remarkable performances of drummer Dutch E Germ, and the singer-dancer TUNG Po-Lin, on the level of sounds, also highlight the sense of solitude and desolation in revelry and fervor. Through Ride the Beat, it is undebatable that Lee Chen-Wei has mastered the technique of the Gaga movement language, and forges it into a unique and mature dance method, with which she guides the dancers to navigate and explore individually what it means to be lonely and wild, forming an intricate dance-scape in which the individual and the collective co-exist.(Commentator/WU Meng-Hsuan)
Artwork Introduction
Since 2020, under the impact of COVID-19, everyone has faced various restrictions and undergone survival adjustments and challenges in everyday life. This state of affairs has pushed our physical and mental limitation and our experience of suppression to a new level—"social distancing" causes tensions between people; free movement is canceled; and all actions are under scrutiny. Europe-based dancer-choreographer Lee Chen-Wei leads a group of performers to conduct self-exploration with their bodies and respond to the external circumstances today.
Ride the Beat, with the arrangement of six performers and one musician, concentrates on the intimate relationship between the body and the spirit. As the work reflects on our current situation, it is also an attempt for spatial breakthrough so as to look for an exit that allows for a respite during tense moments.
About the Artist
Lee Chen-Wei was born in Yilan, and graduated from the Department of Dance, Taipei National University of the Arts. She currently works as a freelance dancer-choreographer and GAGA movement instructor. She is the recipient of the TECO Award for Humanities in the Art of Dance Category.
LEE\VAKULYA is an artistic choreography duo created by Lee Chen-Wei and Zoltán Vakulya. They have worked in collaboration since 2016 onward. While investing in the field of dance, they also work with interdisciplinary, multimedia and visual artists to strive for embodying and practicing their individualistic movement languages. In terms of creative concept, their main interest lies in how the body interacts and connects with social surroundings and the zeitgeist, the exploration of interconnections between the body and the state of mind, as well as the subtle and inseparable relationship between human and society. With improvisation as their strategy and preferred mindset, they have continued cultivating and attending to the core spirit of their creation during performance.