Visual Arts Award Winner_howdoyouturnthison─ 2021 Asian Art Biennial
Visual Arts Award Winner_howdoyouturnthison─ 2021 Asian Art Biennial
Visual Arts Award Winner_howdoyouturnthison─ 2021 Asian Art Biennial
Visual Arts Award Winner_howdoyouturnthison─ 2021 Asian Art Biennial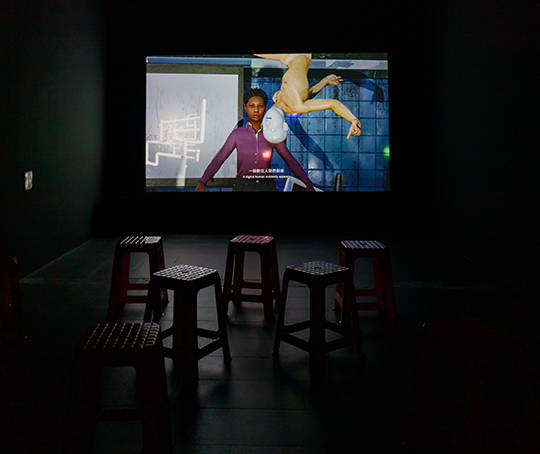 Date

2021/10/30–2022/03/06

Venue

National Taiwan Museum of Fine Arts
Jury's Comments for the Visual Arts Award Winner
LI Yi Fan's howdoyouturnthison responds to the genes of the digital age and its mutated memories with unique black humor. Behind the seemingly absurd and eccentric images, a fascinating narrative technique and its script are constructed. LI overturns the historical toolbox of "machinima," skillfully manipulating his avatar that wriggles without physical constraints. The ghost in the shell stimulates the viewer's bodily perception, and its murmured confessions draw everyone to unconsciously enter the inner world of image production. The mutual generation of post-human body and virtual reality modeling language (VRML) reflexively exposes the alternative reality of the Internet generation, releasing the becoming of images and liberating the narrative language.
Comments on the Finalist
LI Yi Fan's howdoyouturnthison is a video work created with game engines, a video production tool for making videos and games. Utilizing qualities of image post-production and with a sense of humor characteristic of the games generation, the artist interweaves processes of video production with video images that have been produced through these processes. The work is brilliant in the way that it takes serious political and social issues which seem unrelated to video production, and converts them into restrictions and requirements to be faced in the production processes, thus reconnecting the method and the result of such production. Meanwhile, it employs technological infrastructure such as game engines to pose questions regarding how technology confines narrative and our ways of thinking. As the work provides an excellent entertaining effect, it helps us navigate and deeply reflect on the issue of the technical-economical complex.(Commentator/WANG Po-Wei)
Artwork Introduction
In howdoyouturnthison, LI Yi-Fan focuses on the evolution of image-making tools after the emergence of the virtual world. Using game engine and real-time image as his starting point, LI has developed his own image production toolkits, which he utilizes to produce narrative images in a more intuitive manner. With modern VR equipment and systems, he is able to write down images with a more intuitive and sensory approach, and thus interrogates the contemporary relationships among humans, technology, and images.
About the Artist
LI Yi-Fan mainly employs image as his creative medium. His practice focuses on the possibility of combining sculpture and installation. Using technology media such as mapping projection, Li formulates a meta-narrative concept. His work seems to linger on the threshold of narratives, and consequently mires in a state of continuing preparation. Such preparation is rife with the frolic, wrestling and torture between the artist and his chosen media. It is not until one of the two parties collapses that the work eventually rises from the decaying corpse, and then the narratives begin to unfold quietly.